Chicken crostini recipe with step by step pictures. I adapted this recipe from nigella lawson and it taste amazing. This is a party appetizer recipe.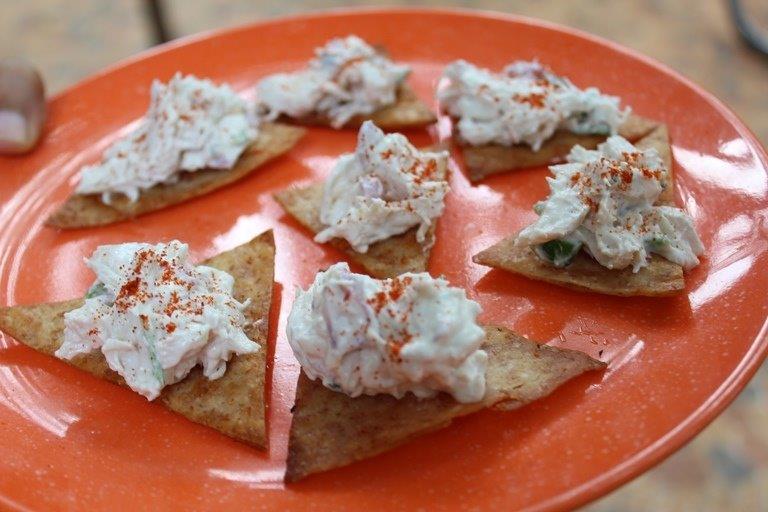 Chicken Crostini Recipe is a perfect appetizer for any parties or occasion. This is nigella lawson recipe and it is just perfect for any parties.
I served this crostini in some tortilla chips but you can serve this in any toasted piece of bread or your favorite chips.
This crostini has a chicken and cream cheese spread as topping. You can use this filling for sandwiches too.
You will love my crispy vegetable recipe too.
Chicken Crostini Recipe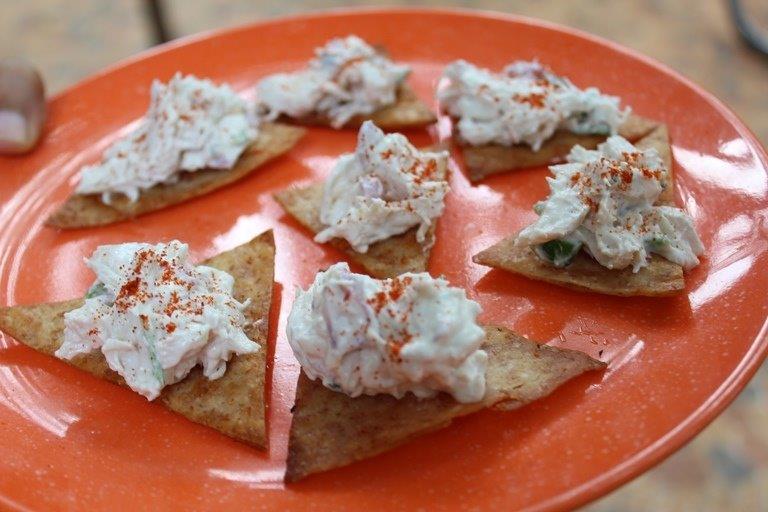 Chicken Crostini Recipe makes a perfect appetizer for any parties or occasion. I made my own tortilla chips but you can use storebought tortilla chips or any chips
Author: Aarthi
Recipe type: Appetizer
Cuisine: American
Serves: 4 servings
Ingredients
Tortillas – 3 cut into triangles
FOR FILLING:
Cream Cheese – ½ cup
Cream – ¼ cup
Spring onion – 1 chopped finely
Green chillies – 1 finely chopped
Coriander leaves – 2 tblsp chopped finely
Cooked Chicken – 1 shredded
Salt to taste
Lemon Juice – to taste
Cayenne powder – as needed
Instructions
Take tortilla and cut it in triangles. Fry it in a pan with little oil till crispy, It will look soft at first but as it cools it will get crispy.
Mix all ingredients in a bowl except cayenne till mixed,
Spoon this over each tortilla chips and dust with little cayenne on top,
Serve immediately.
Notes
1)Instead of tortilla chips you can use any chips as you prefer,
2)You can toast thin slices of bread and use that as well,.
3)Instead of chicken you can use any veggies as per your choice,
4)You can skip the chicken in this recipe for veg version.
Nutrition Information
Serving size: 4 Calories: 230 Fat: 17.4g Saturated fat: 10.5g Carbohydrates: 5g Sugar: 0.3g Sodium: 166mg Fiber: 0.5g Protein: 13.7g
3.5.3251
Pictorial:
1)First lets make tortilla chips. Cut out tortilla into wedges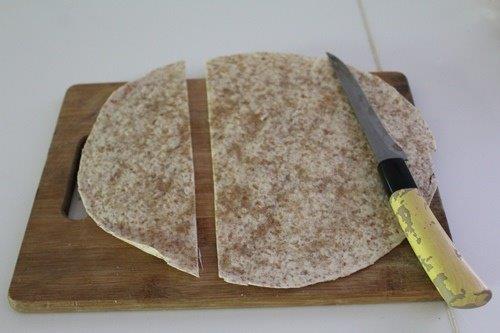 2)Like this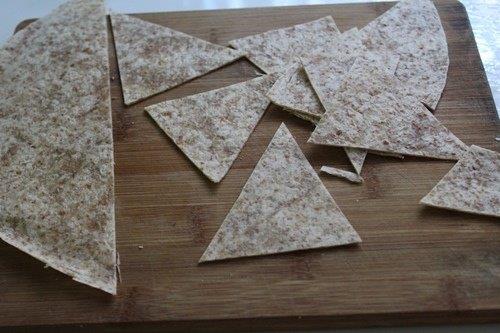 3)Fry in oil till crispy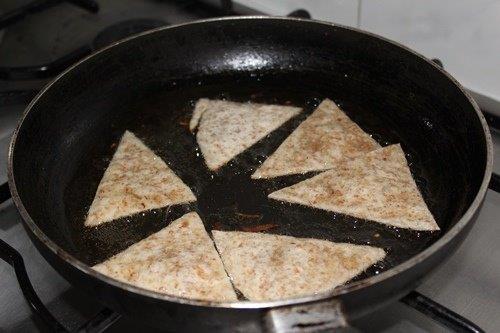 4)Lets make some filling. Take cream cheese in a bowl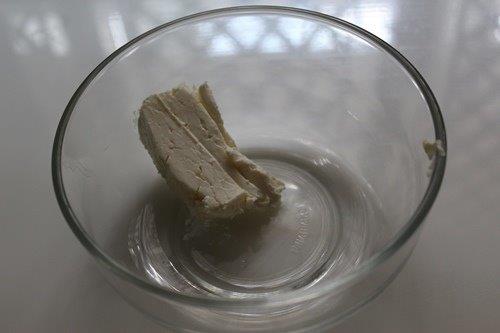 5)Add some cream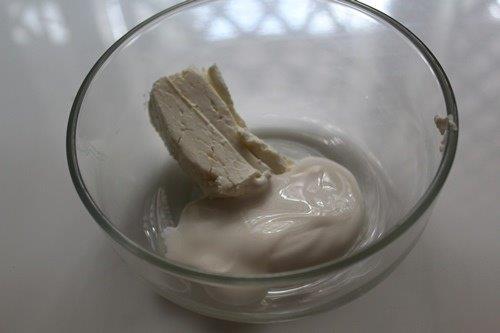 6)Add in chopped shallots, green chillies and coriander leaves, Sprinkle little salt as well.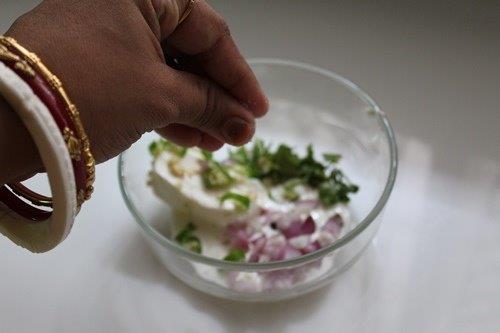 7)Add in some lemon juice.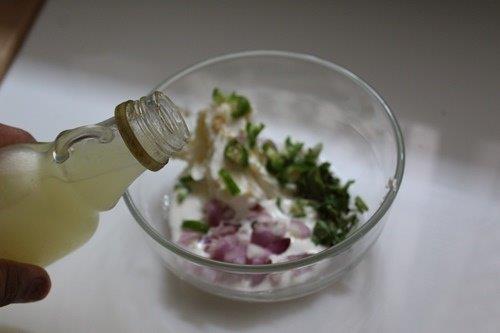 8) Mix well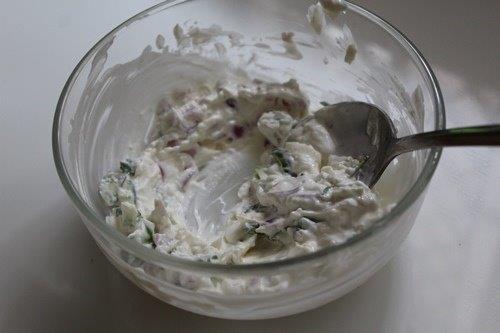 9)Add in cooked shredded chicken.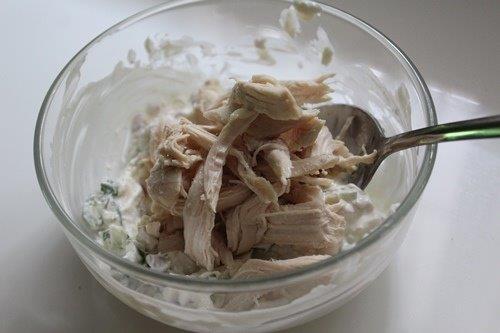 10)Mix well. Filling done.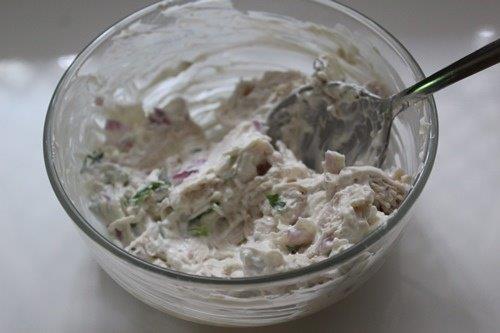 11)Take some tortilla chips.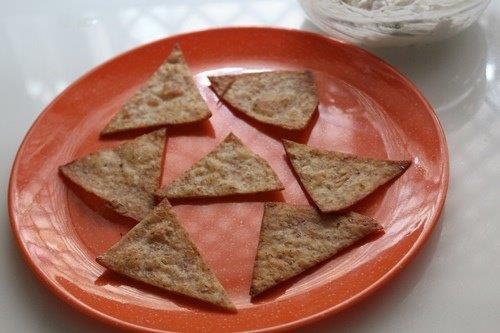 12)Take spoonful of filling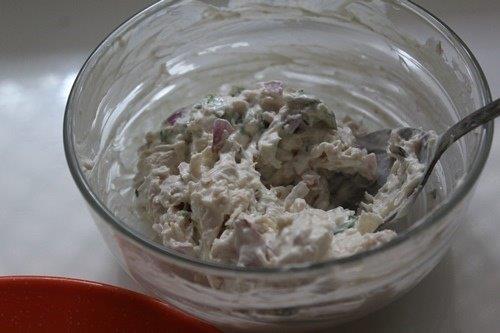 13)Place it on top of the chips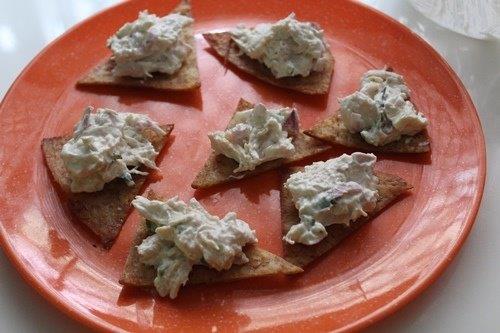 14)Sprinkle with some cayenne powder.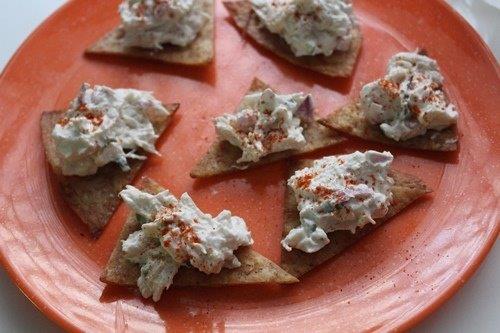 15)Serve.